Thursday, August 18, 2005
SECURITY -->Pete Lindstrom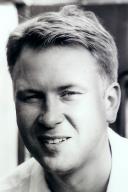 Heard from
Pete Lindstrom
this afternoon, which was nice. He's a little older than he looks in this picture (notice, it's in black and white), but I liked it better than the headshot he's using now. He has some interesting perspectives on recent deal flow in the security space:
Symantec-Sygate is most interesting as Symantec wakes up to Microsoft's attack on antivirus and Cisco's new threat with NAC.
Intel-Sarvega matchup makes sense. Sarvega is doing tcp-stream-based operations on xml data. It is clear that web services and service-oriented architecture are the wave of today, so Intel wants a piece of the action. without chips, xml/web services has real performance issues.


Protegrity/KavaDo is an interesting matchup. protegrity has only recently been reborn after its death a few years ago. the world is finally ready for database encryption, so their prospects are high now. kavado is one of the grandfathers of the web app firewall and vuln scanner space. From what I understand, they have been shopping themselves around for a while. The match is not completely obvious, but web security technology will be useful for protegrity as they build out their solution. (You may recall that F5 recently bought Watchfire's web app firewall (was Sanctum) and killed it.